bundle offer
limited time only
Max Rive Master Presets
4 Seasons Preset Packs
Moody & Dramatic Presets
4 NEW 2023 Preset Packs
RAW files
Move the slider to see the before/after!
---

SOFTWARE

INVESTMENT

COMPATIBLE
VIDEO

SOFTWARE
LR + LR Mobile

INVESTMENT
$ 336.00

COMPATIBLE
Adobe CRAW
VIDEO
Included
With this Lightroom Landscape Preset Pack, you will turn your landscape in award-winning photography results - and it will only take a few clicks! It took Max Rive over 12 years of photo editing to develop his own style and editing knowledge - which is now available for all landscape photographers. You can use the 1-click Lightroom landscape Presets - or the layered Presets. It was Max Rive who was the very first who developed layered presets - and this incredible technique is now being used by many other landscape photographers. A detailed instructional video is included to ensure you are ready to use the presets on your landscapes right away. With a normal preset you select 1 preset - with a layered you select more than one, for example 3, to get that perfect light and mood. This Lightroom Landscape Preset Pack is compatible with Lightroom mobile and Lightroom classic. They also work great in Adobe Photoshop's Camera Raw.
bundle offer
limited time only
Max Rive Master Presets
4 Seasons Preset Packs
Moody & Dramatic Presets
4 NEW 2023 Preset Packs
RAW files
Lifetime access to Lightroom Landscape Presets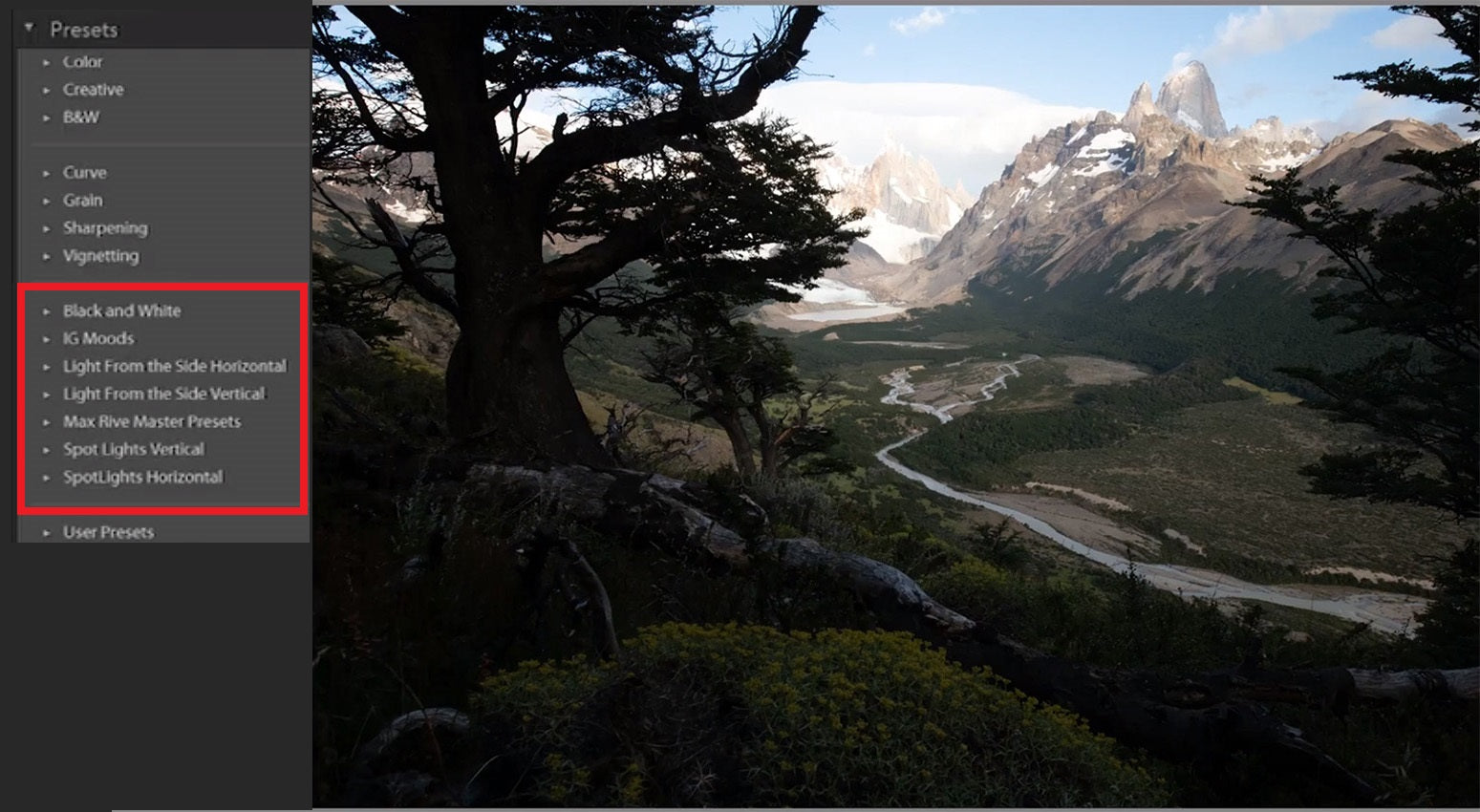 Step 1: Import the Preset Pack
Step 1: Import the Preset Pack
This will show you 7 categories with presets to choose from.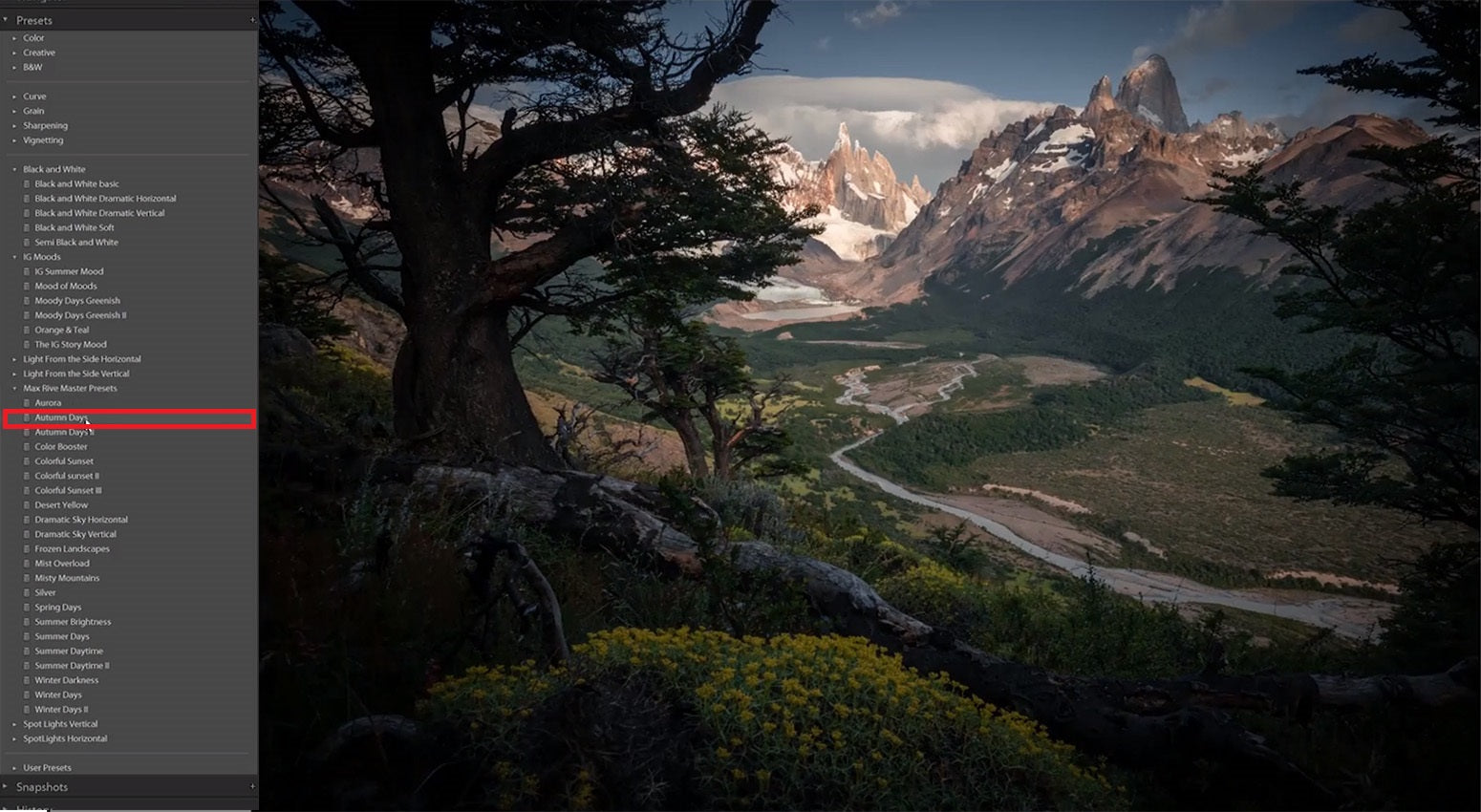 Step 2: Select a ''normal'' preset.
Step 2: Select a ''normal'' preset.
In this image ''Autumn Days'' has been selected. A nice result but there are better options for a photo taken in Summer.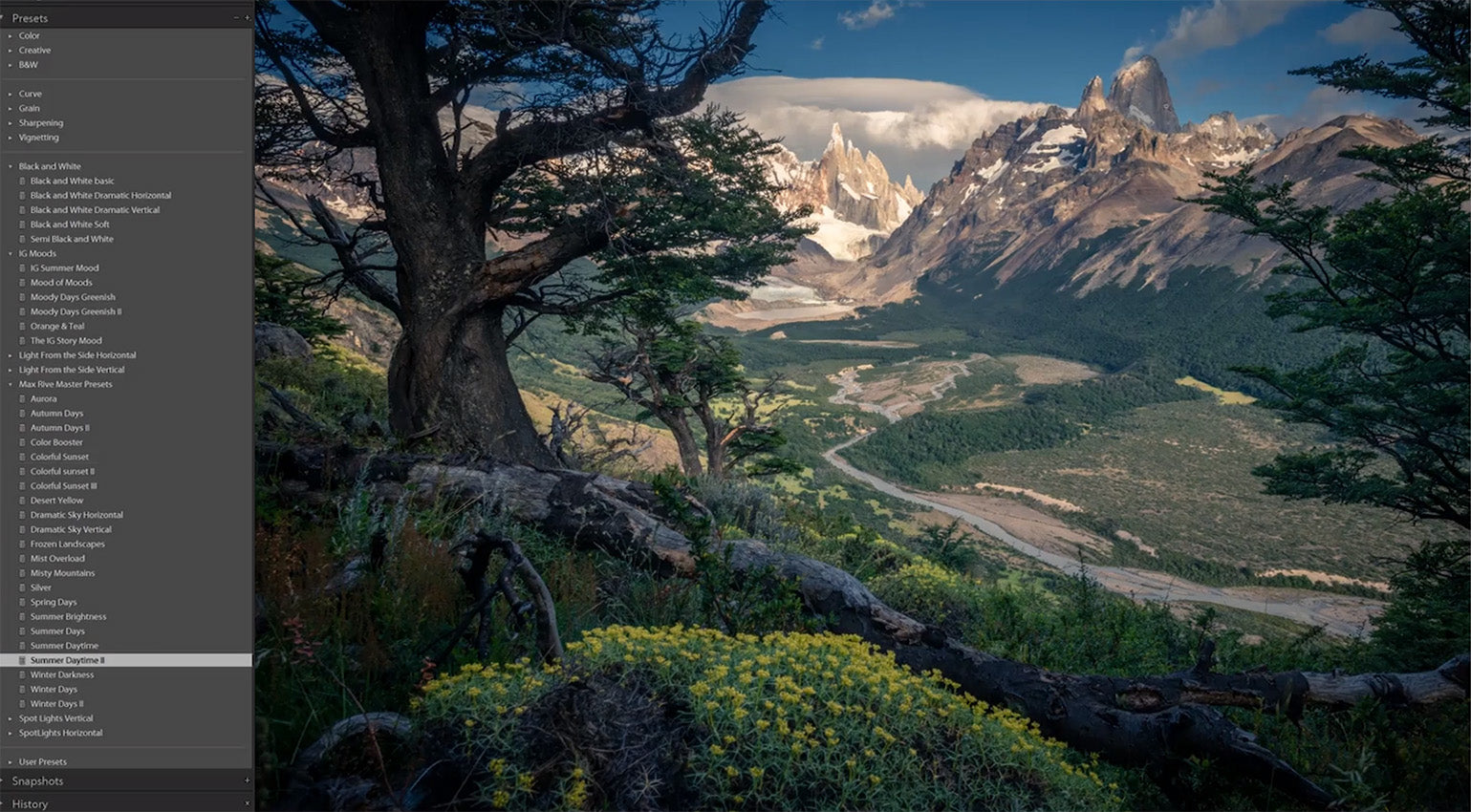 Step 3: Select the most fitting
Step 3: Select the most fitting
''Summer daytime II'' fits better.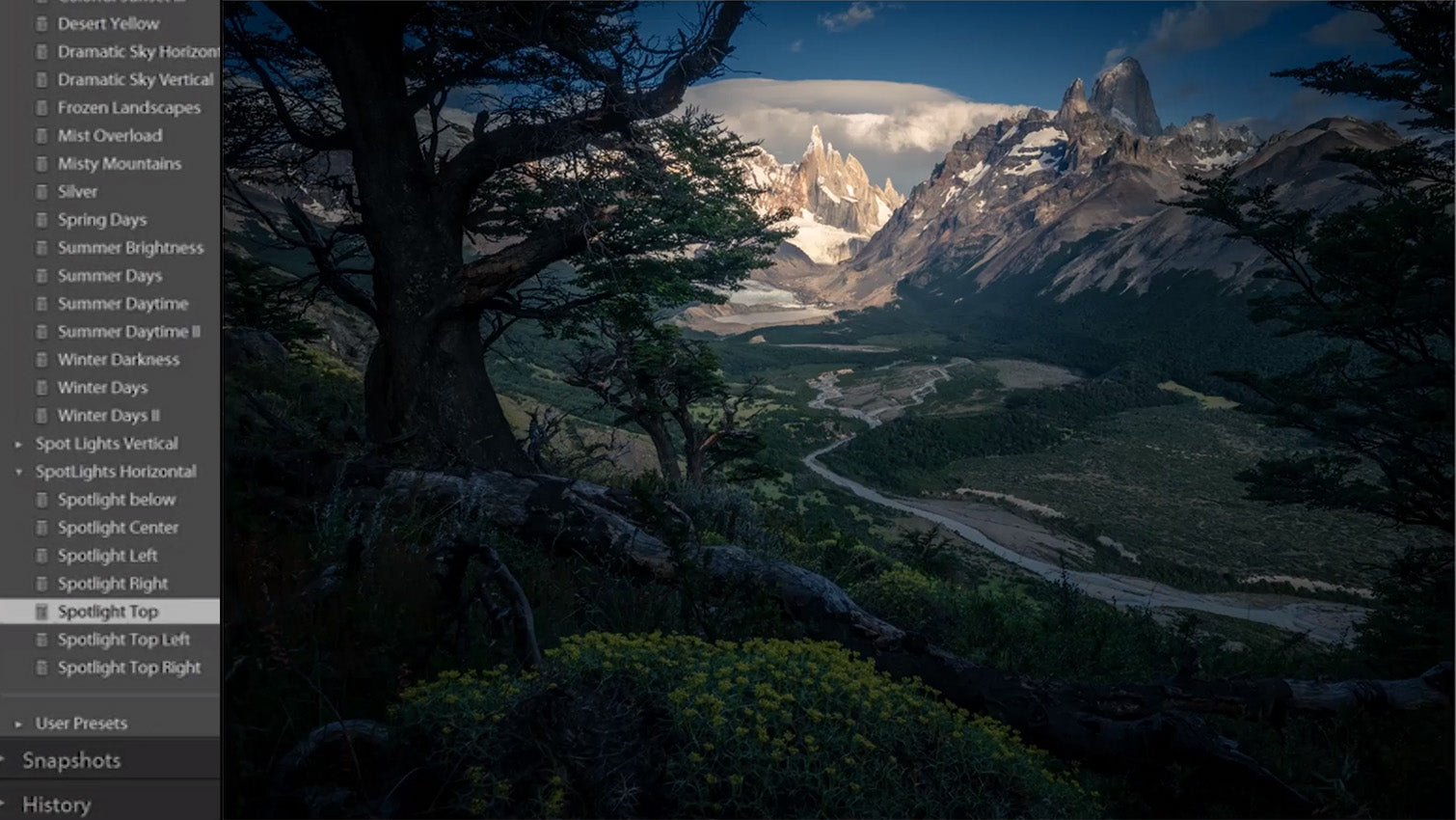 Step 4: Combine with a light preset
Step 4: Combine with a light preset
''Spotlight Top'' has been selected for more dramatic light.  
These presets are for you if
One Click Editing.
...You want to get great results on your landscape photo with just a few clicks. Over 12 years of photo editing experience by Max Rive has been translated in this Lightroom Landscape Preset pack.
---
Combine with Photoshop.
...You would like to use this Lightroom Landscape Presets as a starting point for your own photo editing. Select a landscape preset and finish with your own Photoshop editing to get quick but incredible results.
---
The Max Rive Light.
...You would like to include dramatic light effects to your landscape photos with this Lightroom Landscape Presets. This is the first and only preset pack available which allows you to include light effects to your landscape photo. 
Presets (336 combinations)
Aurora
Autumn Days
Autumn Days II
Color Booster
Colorful Sunset
Colorful Sunset II
Colorful Sunset III
Desert Yellow
Dramatic Sky Horizontal
Dramatic Sky Vertical
Frozen Landscapes
Mist Overload
Misty Mountains
Silver
Spring Days
Summer Brightness
Summer Days
Summer Daytime
Summer Daytime II
Winter Darkness
Winter Days
Winter Days II
IG Summer Mood
Mood of Moods
Moody Days Greenish
Moody Days Greenish II
Orange & Teal
The IG Story Mood
6 Spotlights - both horizontal and vertical
6 Light From the Side - both horizontal and vertical
TESTIMONIALS
This are 3 out of 24 testimonial
Max Rive's Lightroom Landscape Presets take my pictures from average to extraordinary! I am an average, everyday photographer in my life, work and travels. These easy to use tools have created magnificent pieces of art from what started as normal (mostly taken on my iPhone) photos. Plus - my results at work as a social media manager have seen serious growth! I'd recommend Max Rive's Lightroom Landscape Presets for anyone looking to improve their photographs, and improve them by a lot. 
Daniel Woodcock

Max Rive's Lightroom Landscape Presets took my image making to another level.  The concepts he teaches are great building blocks to further develop your own processing style or simply speed up your workflow for the Lightroom Landscape Presets straight out of the box.  The Lightroom Landscape Presets are simple, easy to use and bring images to life.  I highly recommend them!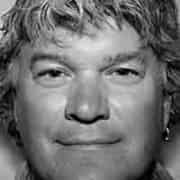 Markus Van Meter

Max is the best photographer that comes to my mind in landscape photography and Max's Lightroom Landscape Presets are fantastic and really exceed above and beyond my expectations. I will be safe and archive his presets for future referencing as I continue to grow and develop my skills. His great Lightroom Landscape Presets will be my guide for my photography journey. I believe all photographers who take his presets will gain a lot of things valuable from them. I guarantee this! Do you know what they say about people who have stop learning? - "They stop growing.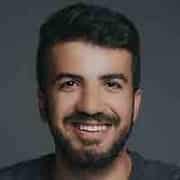 Cuma Cevik

Read all testimonial
here
Let's make a positive impact
CLOSE

With the rapidly growing world population and the way we often priorities our economies at the cost of our natural world – making a positive impact while running a business is more important than ever before.

From every order made on this website,Ecologi They will plant one tree in designated lands.

You can access my tree status page in the banner on the bottom of this page. This page will be updated every 24 hours. On a later stage a special page with more info on this and more projects will be opened – stay tuned!
CLOSE
This video has the following subtitles included: English, French, Chinese, German, Spanish, Italian, Japanese, Dutch, Hindee, Portuguese, Russian and Korean.
Limited Time Offer
Don't act too late