Let's make a positive impact
CLOSE

With the rapidly growing world population and the way we often priorities our economies at the cost of our natural world – making a positive impact while running a business is more important than ever before.

From every order made on this website,Ecologi They will plant one tree in designated lands.

You can access my tree status page in the banner on the bottom of this page. This page will be updated every 24 hours. On a later stage a special page with more info on this and more projects will be opened – stay tuned!
CLOSE
This video has the following subtitles included: English, French, Chinese, German, Spanish, Italian, Japanese, Dutch, Hindee, Portuguese, Russian and Korean.

DOLOMITES SUMMER TOUR
You are invited to join Marco Grassi on a fantastic tour in the Dolomites next summer. You'll get to visit the best spots in the Dolomites, including the Drei Zinnen, Alpe di Siusi, Langkofel, Lago Imides, the St. Johann Church, the Odle Mountains, Cinque Torre, and many more. We'll rest in luxurious apartments after long days of extensive shooting, and there, you'll be able to take advantage of personal processing instructions.
Tour Length
7 Days

Dates

July 20-26

Activity Level

Eeasy
Group Size
Max. 10

Single Room

€525.00
TOUR FEE
HIGHLIGHTS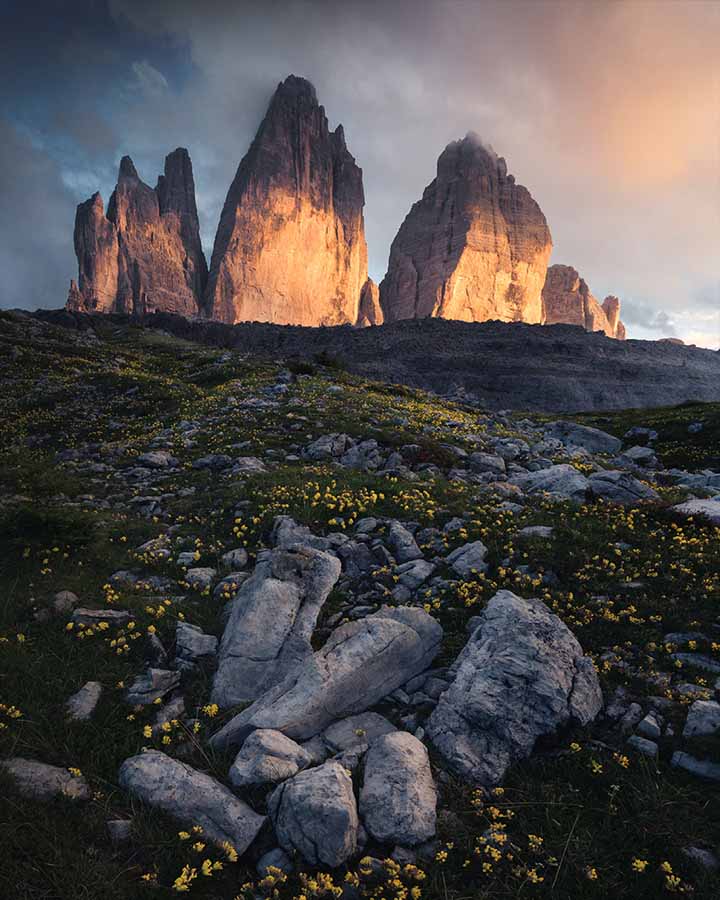 TRE CIME
TRE CIME
We will shoot this amazing mountains from the best spots at different angles.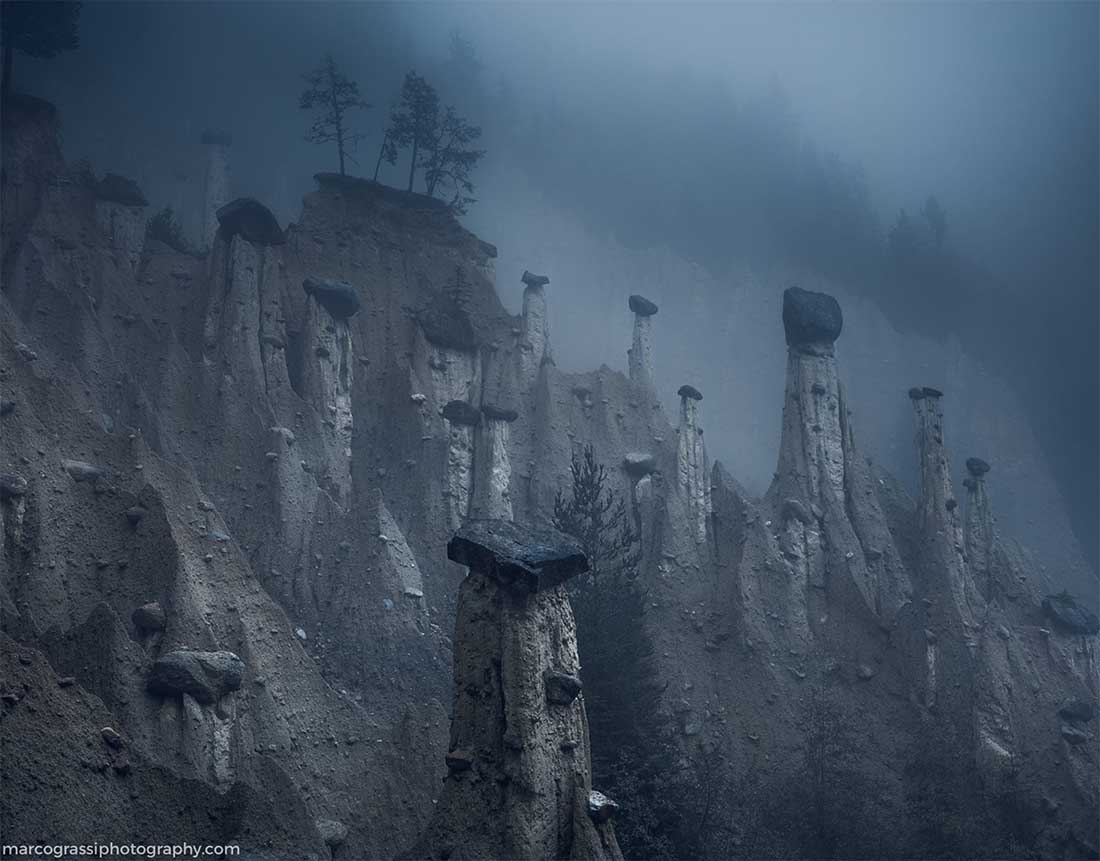 LOCATIONS FOR ALL WEATHER
LOCATIONS FOR ALL WEATHER
Even on rainy days we have some incredible locations we can visit.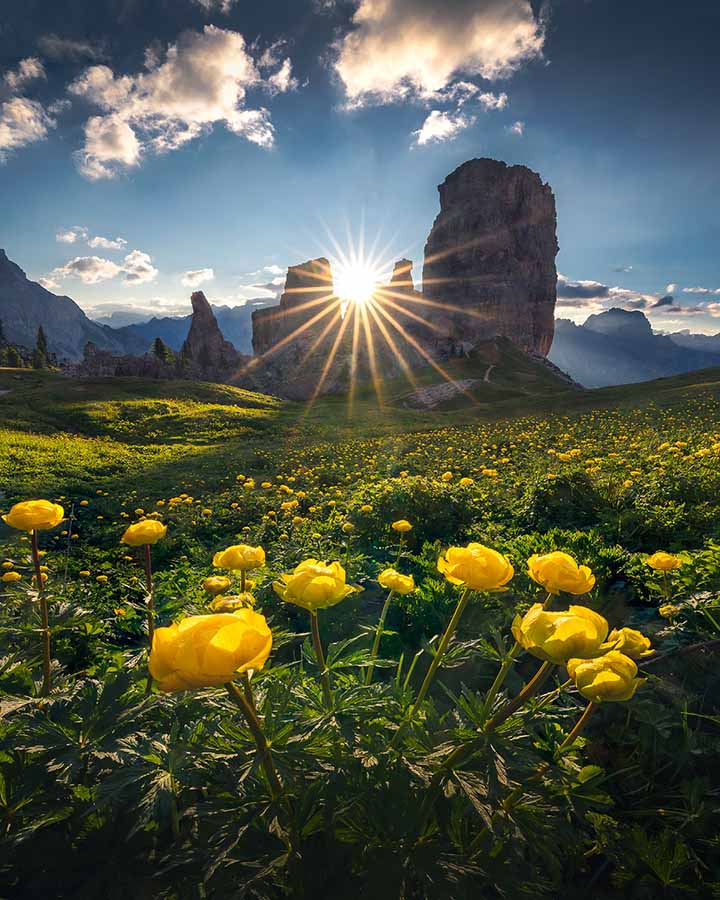 WILDFLOWERS
WILDFLOWERS
This is the best time of year to shoot fields of wildflowers in the Dolomites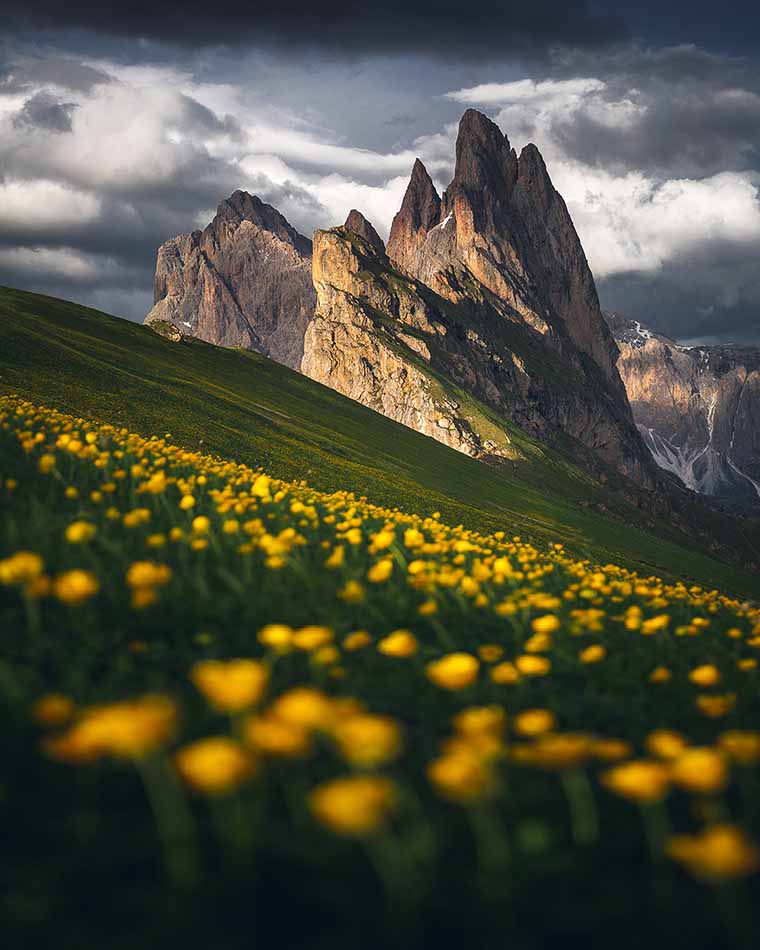 SECEDA
SECEDA
This mountain in the Dolomites is incredible during summer with wildflowers, green fields and afternoon clouds hitting the peaks.
DAY 1
---
You'll be picked up from Venice airport no later than 11:30 am, and after our meet and greet, we'll begin our trip towards the Dolomites. The Alps will already be in full sight with astonishing views in all directions. After our 2.5-hour drive, we'll go to our first apartment next to the amazing Drei Zinnen (German) / Tre Cime de Lavaredo (Italian). After we check in at the apartment, we'll drive to the Tre Cime parking spot.
Here, we will enjoy a sunset shoot with different compositions. There will be flowers all around, and we'll take advantage of the longer summer days and use the time for scouting. After dinner, you can choose to conduct a night shoot or get some rest in the apartment.
Images DAY 1
DAY 2
---
For sunrise, we'll go to Lago di Braies, a beautiful green mountain lake surrounded by amazing vertical mountain walls. After sunrise, we'll go back to the apartment for breakfast.
After lunch, we will continue to shoot the Tre Cime again but this time from different angles. The area around the Tre Cime is quite big so a second visit is the least you want when visiting the Dolomites.
At sunset, we'll visit this small mountain lake and enjoy its beautiful scenery, as well as secret photography locations nearby.
Images DAY 2
DAY 3
---
For sunrise, you'll get to shoot the Cinque Torri mountains which we will reach by car + a 5 to 10 min hike. Around Cinque Torri there are many fields of wildflowers. After lunch, we will drive to the village of San Martino di Castrozza, which is along a small, unknown mountain road offering some of the most amazing forest scenery in the Dolomites.
The mountain walls around San Martino di Castrozza are awe-inspiring.
We'll stay in this valley for sunset and return for sunrise. In the apartment, we'll spend time on personal processing videos.
Images DAY 3
DAY 4
---
During the day, we'll drive to our apartment in Ortisei. After lunch, we'll embark to another secret gem, which offers incredible photography opportunities as the sun rises above the jagged peaks of the Langkofel mountains.
Back at our apartment, we'll spend time on processing techniques. Marco will process a selection of photos taken by the guests during the tour. There will also be time to provide Marco with photos for critique – a great way to learn for everyone. During sunset, we'll go to a secret location with a stunning view over the surrounding mountains. Even in foggy conditions, the view is unforgettable!
Images DAY 4
DAY 5 - 7
---
After sunrise, we'll go to the village of Santa Magdalena, where the famous St. Johann Church rests with the Odle Mountains rising 3,000 meters behind it. At this location, flowers will be in bloom, and we'll take advantage of the opportunity to demonstrate various compositions. During the evening, we will spend more time on personal processing instructions.
The following day we will go up the mountain by cable car to shoot the incredible Seceda mountain. Hopefully there will be some afternoon clouds hitting the peaks. At sunset we will either stay here or go to another location.
After a hearty breakfast, we will drive back to Venice. Along the way, we'll stop at a beautiful high alpine lake that offers great photography opportunities. Later in the day - around 11:30 am - we'll say goodbye at Venice Marco Polo airport.
Images DAY 5 - 7
Professional photo Guides
Marco Grassi and Jessica Lancia. Our guides know the area better than anyone and have a big drive to teach the group in a fun yet ambitious way. Your success and satisfaction is their success and satisfaction. The more you are willing to learn, the more we encourage you to ask questions at all times.
Depending on the group size, we will use one or two, 9-seater vans to ensure plenty of space for everyone.
All processing videos and presets from Max Rive.
All of Max Rive's highly esteemed processing videos and presets will be shared before/after the tour. In these videos he will demonstrate his unique and award-winning style of processing in depth. Total value is around 550 USD.
Personal Processing Sessions
The guides will demonstrate the latest processing techniques on a laptop connected to the available tv or monitor in the hotel. A photo from one of the participants or from the guide himself will be used. All sessions will be recorded and shared among the group so everyone can watch the classes back once at home.
Travel insurance and flights
Travel Insurance is required and has to be arranged at some point before the tour start. You will have to arrange your flights to and from Venice Marco Polo airport.
Food: Lunch, dinner, snacks, alcoholic drinks
We will visit the best local restaurants for lunch and dinner. In between we will stop at supermarkets and small grocery stores to allow everyone to get some snacks and drinks if desired.
Max Rive's in the field Tutorials
These videos are not included because these videos can be considered as a workshop on its own.
Will it not be too busy in the Dolomites during summer?
Although the Dolomites have many visitors in summer - we will barely see any other people and photographers during the time we are out shooting. When we leave after our sunrise shoot to go back to our hotels the tourists will do the opposite by just leaving the hotel to go on a hike when the sun is already long up. The same goes for the sunset shoot but then the other way around. During daytime, we catch up on sleep, go for a post processing session, lunch and on the way to our sunset shoot we visit other places for a quick shoot.
Where can I get the tour information brochures (PDF)?
You will get all tour PDF's by email when joining our exclusive tour list (CLICK HERE)
Do I need to bring a laptop for the classes?
No, the guides will connect their own laptop to the projector in the hotel.
What lenses shall I bring to the Dolomites ?
We recommend bringing a wide angle, normal (40-58) and tele-zoom lens to the Dolomites. The normal and tele-zoom lens are the most essential.
The Dolomites Summer Tour is easy, with the longest hike being a 40-minute trek to Drei Zinnen. Along this hike, people will be able to stop to shoot the views around them. Depending on the total fitness level of the group, some smaller hikes from the departure point of each morning/evening are optional.
Yes, but only outside the National Parks. There are some drone spots, but the Dolomites are still best captured with a normal camera.
What will the weather be like?
The weather during summer in the Dolomites varies each year. Temps can be mild with 20+ degrees Celsius during the day but it is also possible that the temperatures will just reach 10 degrees. At the beginning of the tour, we'll inform you about the expected weather so that you can be prepared with the best gear for the trip.
Is there a required experience level?
No, we have photographers from all experience levels participating. Whether you ask how to shoot in manual mode, how to take a panorama or how to master the handheld focus stack technique – the guide will always be happy to help and adopt his teaching to each skill level.
Will my allergy/diet be a problem?
Not at all – you will be able to provide us with your allergy/dietary restriction upon registration.
Can my non-photographer partner join for a discount?
Unfortunately, we don't have different prices for non-participating clients.
REFUND AND CANCELATION
Unlike most other tour companies - our refund policy is NOT aimed to make money from any cancellation. It rarely happens that we can't refund the full amount. In case you want to cancel you will be fully refunded unless the tour was fully booked at the time of your cancellation AND we will not be able to find a replacement. Please see here for our full refund and cancellation policy. 
The deposit of 1500, - euro can be transferred to a different tour. A refund will be given if 1. A replacement has been found and 2. If the tour is fully booked.

Refund Policy regarding the full payment
(which is required 90 days before the tour start):
 • More than 60 days prior to the start date: 70%refund
• 45 days prior to the start date: 35% refund
• 30 days prior to the start date: 15% refund
• Less than 30 days: no refund.

When a replacement has been found a refund will be given. Any discount offered to that replacement will be deducted from the refund amount. The received amount will be refunded - transaction costs and currency differences might lower this amount.
Refunds will be paid by the same method as the original payment was made. Refunds will be initiated within 72 hours after the approved request. Please find our full refund and cancellation policy in our Terms and Conditions
here
.