Let's make a positive impact
CLOSE

With the rapidly growing world population and the way we often priorities our economies at the cost of our natural world – making a positive impact while running a business is more important than ever before.

From every order made on this website,Ecologi They will plant one tree in designated lands.

You can access my tree status page in the banner on the bottom of this page. This page will be updated every 24 hours. On a later stage a special page with more info on this and more projects will be opened – stay tuned!
CLOSE
This video has the following subtitles included: English, French, Chinese, German, Spanish, Italian, Japanese, Dutch, Hindee, Portuguese, Russian and Korean.

PERU SUMMER TOUR
Come join Max Rive on his 12-day adventure photography tour in the Peruvian Andes! During this tour we will visit the most amazing locations in the remote mountains of Peru at the best time of year. Every day is filled with incredible photography destinations that are rarely seen or photographed. The fluted mountain peaks here are unlike anything you've seen before. This tour will be a mixture of hotels stays and camping, with the grand finale: setting up base camp at the foot of 'Paradise Mountain.' Here we'll see one of the most amazing views on planet Earth! During our hotel stays, personal processing instructions, scouting tips, and more photo related subjects will be given.


Tour Length
12 Days

Dates

June 3-14 in 2024

Activity Level

Med - Hard
Group Size
Max. 10

Single Room

€1500,-
TOUR FEE
HIGHLIGHTS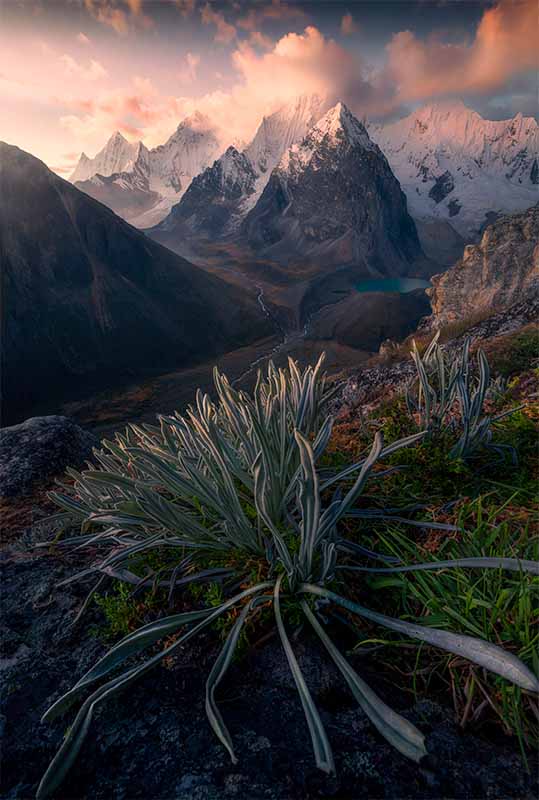 Siula Grande
Siula Grande
Most amazing mountain in the world.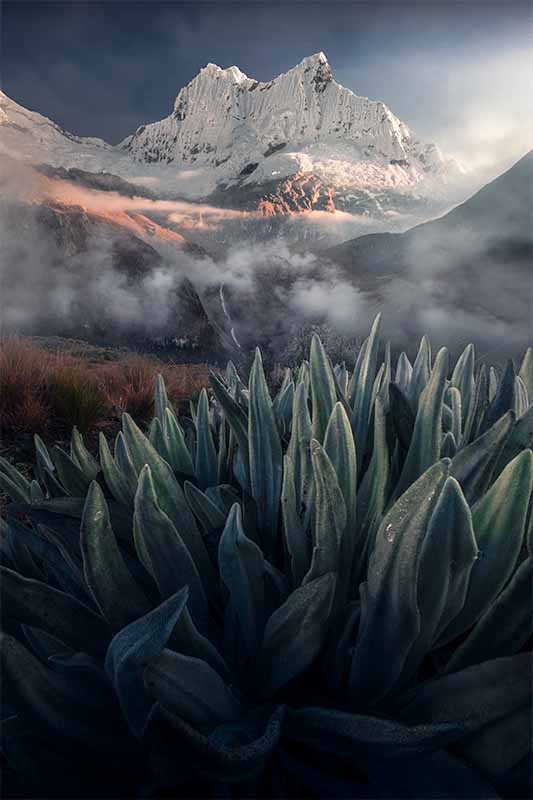 Locations
Locations
Unique and breathtaking.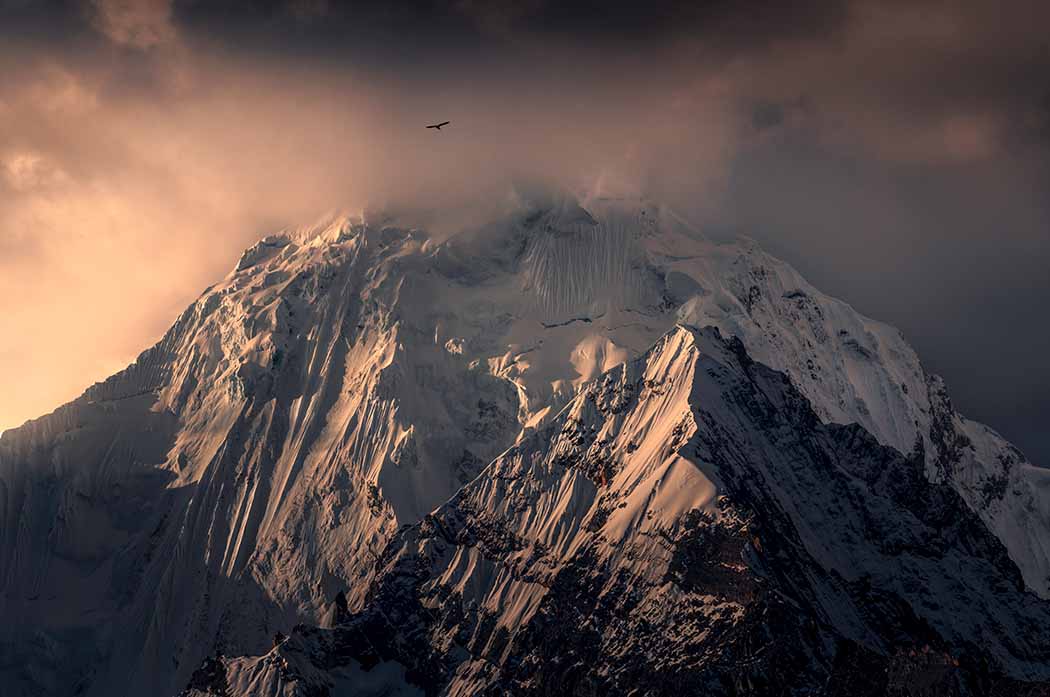 Season
Season
Wildflowers, fresh snow and great weather.
Day 1 + 2
---
We will meet the group at the airport in Lima at around 10 am(?). Once everyone is greeted, we will make the lengthy drive into the mountains with breaks a long the way. While stopping in the central town of Huaraz is typical of tours, we will bypass this area to stay in a more remote village for a true Peruvian experience. Upon arrival, its time to relax, explore town and have a welcome dinner at a local restaurant.
On the second day, while acclimating to the altitude, we will drive to several viewpoints with incredible mountain vistas. Some of these massive peaks are 6700 meters high and stand nearly 4km higher than us! When you add in the afternoon clouds swirling atop these mountains, you truly get an unforgettable sight. For the evening we'll settle back into the village for dinner, with the option for a post processing demonstration.


Images Day 1 + 2
Day 3
---
For this morning we'll travel to a "secret garden" and marvel at a variety of beautiful flowers with a flowing creek all of which are encircled by 6000+ meter peaks. There are amazing photography opportunities here with literally dozens of compositional options giving everyone plenty of space to roam and capture stunning images. After golden hour there is still plenty to see & shoot. Sometimes the best light can even occur midday!
For sunset, we'll shoot the mountains to the South from a lower elevation, looking up a massive peaks once again. Here, afternoon/sunset light is best and - if conditions are right - we will stay beyond sunset to shoot the night sky. You'll be surprised at how fast the sun sets and the sky turns black at only 9 degrees latitude!


Images Day 3
Day 4
---
On this day, we'll be shooting a standalone mountain which towers above the surrounding peaks. This mountain is covered by snow all the way down to the valley, and we'll be shooting it from a giant field of flowers. To access this location, we will drive up to 4500 meters and hike 1km up to 4600 meters.We'll allow for a few hours here to capture the best of the light in this amazing location.  
Afterwards, we'll relocate to another village to stay for the evening. After having lunch here, we'll go to a sunset location and enjoy some telezoom work to capture more giant mountains from a distance. The highest peaks create their own 'micro climates' that you won't want to miss, sometimes appearing and disappearing in only a matter of minutes. The combination of this phenomena with the right light is even more dramatic than the Northern Lights!


Images Day 4
Day 5
---
On our 5th day, we have an early start for a 2.5km hike with 300 meters elevation gain to arrive at our sunrise spot. Going slow and steady, we'll arrive to find a gentle river situated below a 6300 meter peak - a beautiful location with numerous flowers, trees and reflecting pools. This area is expansive and we'll spend a good part of the day here with plenty of snacks on hand.
During the evening, post processing sessions with be provided, as well as a masterclass describing how to find these spectacular locations using Google Earth.


Images Day 5
Day 6
---
Taking a break from hiking today, we'll begin with telephoto photography of snowcapped mountains from around 4700 meters elevation. From here, we'll watch for spectacular clouds forming above the fluted peaks. After our sunrise shoot, we'll go back to the hotel, pack our belongings and begin our drive to the second part of our tour: the hike to Paradise Mountain.
The drive will be 7-8 hours with breathtaking views a long the way. We'll lodge at the nearest town just outside the park. There are no hotels inside the park, so we'll enjoy this hint of luxury!


Images Day 6
Day 7
---
Today we'll begin our trek to a very special location. We'll leave early for a 1.5 hour drive to the beginning of the hike where we'll be met with donkeys, donkey drivers, horses and even a chef. They will carry our extra gear, food and luggage to basecamp at the foot of Paradise Mountain. Here they will set our tents and arrange our meals so that we have as much freedom as possible to explore this amazing area!  
The hike to basecamp is 12km with 750 meters of elevation gain. The slope is gradual as we follow a river nearly to its glacial origin.  As we have most of the day, there is plenty of time for a slow and steady pace with lots of breaks. The beauty of this valley and increasing mountain views will help keep your energy up!
Our first evening at camp will be used to shoot the surrounding mountains and to enjoy the achievement of reaching this place. Dinner will be served in our own kitchen tent.


Images Day 7
Day 8, 9 and 10
---
Over these 3 days, we will shoot the amazing Paradise Mountain and its captivating surroundings. There are a variety of angles, including some from 500 meters above the valley. There are plenty of subjects and compositions here, some with very little elevation gain. This area affords some of the most stunning views in the world with great potential for interesting foregrounds and epic light.

The kitchen tent will remain open, with our personal chef offering breakfast, lunch, dinner, coffee, drinks and snacks at any time. There will also be two toilets nearby.

During the afternoon, Andean condors sometimes fly above the valley. These giant birds boast a wingspan of 3.3 meters and with good timing and a fast shutter speed they can be captured in flight! Not only can it result in a great photo, it is also a spectacular sight.


Images Day 8, 9 and 10
Daty 11 & 12
---
On day 11, we will make our back to the village. This hike will be more comfortable, as it's all downhill. Once we reach the village, we'll settle in for the evening and enjoy our last dinner together. Then we'll provide further post-processing sessions.

On day 12, we pack up and set off for Lima Airport. We'll stop for lunch and any photography opportunities we see on the way. The drive takes around 6 hours, and we'll arrive in Lima mid-afternoon to say our goodbyes. By now, our memory cards should be full of amazing images and memories!


Images Daty 11 & 12
Professional Photo Guides
Our guides know the area better than anyone and have a big drive to teach the group in a fun yet ambitious way. Your success and satisfaction is their success and satisfaction. The more you are willing to learn, the more we encourage you to ask questions at all times.
In 2 to 5-star hotels. We will stay in the best available hotels. Due low tourist activity at some places the quality of the hotels varies.
Depending on the group size, we will use one or two, 9-seater vans to ensure plenty of space for everyone.
We provide Single Person tents. In case you prefer to bring your own you will be free to do so.
Breakfast, lunch, dinner during the whole tour. During camping we will also provide all drinks and in between snacks.
A Chef, big kitchen tent and assistants during the hiking part.
National park permits and entry fees
We can also arrange a drone permit - please contact us prior to the tour.
Max Rive's Processing Instructional Videos
You will receive both before and after the tour a download link to all his released processing tutorials. The total value will be around 550 USD.
Personal Processing Sessions
The guides will demonstrate the latest processing techniques on a laptop connected to the available tv or monitor in the hotel. A photo from one of the participants or from the guide himself will be used. All sessions will be recorded and shared among the group so everyone can watch the classes back once at home.
We will be assisted by a team of porters during the hiking part. A few horses will also be with us we can use in case of an emergency. Even though they can carry us – everyone needs to be able to do the hiking part on their own feet.
Flights + Travel Insurance
Travel Insurance is required and has to be arranged at some point before the tour start. You will have to arrange your flights to and from Lima airport.
Food: alcoholic drinks and extra snacks during the first part
You can buy additonal snacks if desired in the small shops we pas along the way.
Max Rive's in the field Tutorials.
These videos are not included because these videos can be considered as a workshop on its own.
PATAGONIA TOUR GALLERY
Where can I get the tour information brochures (PDF)?
You will get all tour PDF's by email when joining our exclusive tour list (CLICK HERE)
If you do decide to bring a drone keep the following in mind: You could run into some problems during the security check. The fine could be around 2500 euro, if they detect the drone. If you choose to use your drone inside the park, you'll need a permit. If you let us know in advance, we can get the permit for you. Otherwise, we cannot guarantee that you'll be able to use your drone in the park.
How many hiking will be involved?
There are 2 hikes in the first 6 days: the first is a 1km hike with 100 meters of elevation gain at 4500+ meters high; the second is a 2.5km hike and 300 meters of elevation gain. Although these distances are small - we will prepare for a slow and steady pace in order to allow everyone to get used to the high elevation and to be in time for the sunrise spot. Guides will be at both the front and back of the group.
How will we deal with the high elevation?
To ensure your comfort and safety, we will begin at a lower elevation and sleep at around 2500 meters before heading upwards. You can prepare by: - drinking water during the tour to stay hydrated (we will be taking toilet breaks!) - consuming more carbs than usual to give your body the energy it needs at higher elevations - consulting your doctor to inquire about medication for high altitudes Also, keep in mind: - caffeine is considered safe - alcohol and nicotine can have a negative impact at higher elevations - let the guides know anytime you feel ill
Your Guide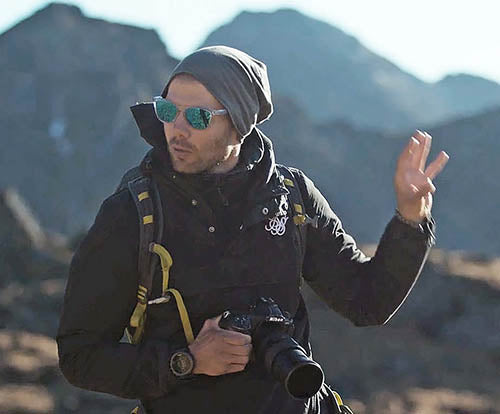 Max Rive Max Rive is most driven by seeking new perspectives in the natural world and capturing them in his own distinguished style. Max's powerful portrayals of his interactions with the mountains has earned him international recognition in the outdoor community.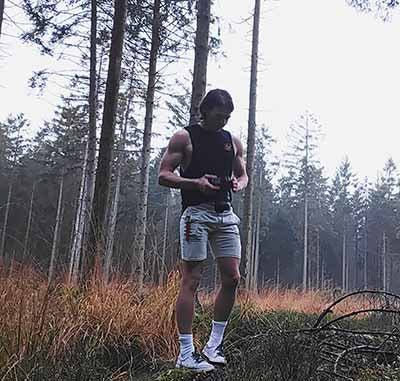 He has spent an abundance of time backpacking through Peru on a journey of discovery, questing for the greatest vantages of the greatest peaks. Max has personally scouted the mountain regions of Peru targeting the most unique and photogenic locations possible. This tour will include the greatest discoveries of his adventure.
REFUND AND CANCELATION
The deposit of 1500, - euro can be transferred to a different tour. A refund will be given if 1. A replacement has been found and 2. If the tour is fully booked.

Refund Policy regarding the full payment
(which is required 90 days before the tour start):
 • More than 60 days prior to the start date: 70%refund
• 45 days prior to the start date: 35% refund
• 30 days prior to the start date: 15% refund
• Less than 30 days: no refund.

When a replacement has been found a refund will be given. Any discount offered to that replacement will be deducted from the refund amount. The received amount will be refunded - transaction costs and currency differences might lower this amount.
Refunds will be paid by the same method as the original payment was made. Refunds will be initiated within 72 hours after the approved request. Please find our full refund and cancellation policy in our Terms and Conditions
here
.