Let's make a positive impact
CLOSE

With the rapidly growing world population and the way we often priorities our economies at the cost of our natural world – making a positive impact while running a business is more important than ever before.

From every order made on this website,Ecologi They will plant one tree in designated lands.

You can access my tree status page in the banner on the bottom of this page. This page will be updated every 24 hours. On a later stage a special page with more info on this and more projects will be opened – stay tuned!
CLOSE
This video has the following subtitles included: English, French, Chinese, German, Spanish, Italian, Japanese, Dutch, Hindee, Portuguese, Russian and Korean.

DOLOMITES AUTUMN TOUR
A UNESCO WORLD HERITAGE SITE
Max Rive invites you along on his brand new 7-day Dolomites Autumn Tour. You'll get to visit the most spectacular sights – such as the Drei Zinnen, Alpe di Siusi, Langkofel, Lago Imdes, the St. Johann Church, the Odle Mountains, Cinque Torri, and many more. You'll rest in luxurious hotels and apartments after long days of shooting. An editing record will be made from one of your photos of choice.
Tour Length
7 Days

Dates

Oct 16-22/ 23-29 (full - waiting list)

Activity Level

Easy
Group Size
Max. 10

Single Room

€475,-
TOUR FEE
HIGHLIGHTS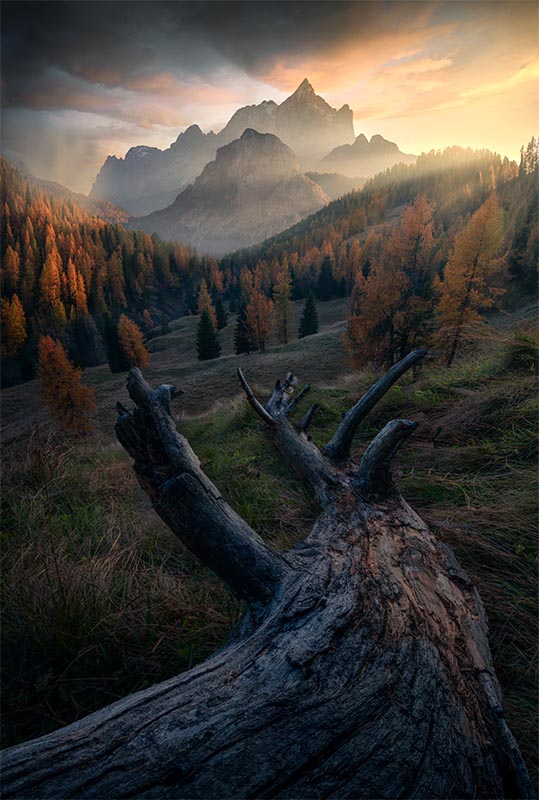 New Locations
New Locations
Epic new spots - discovered by Max Rive.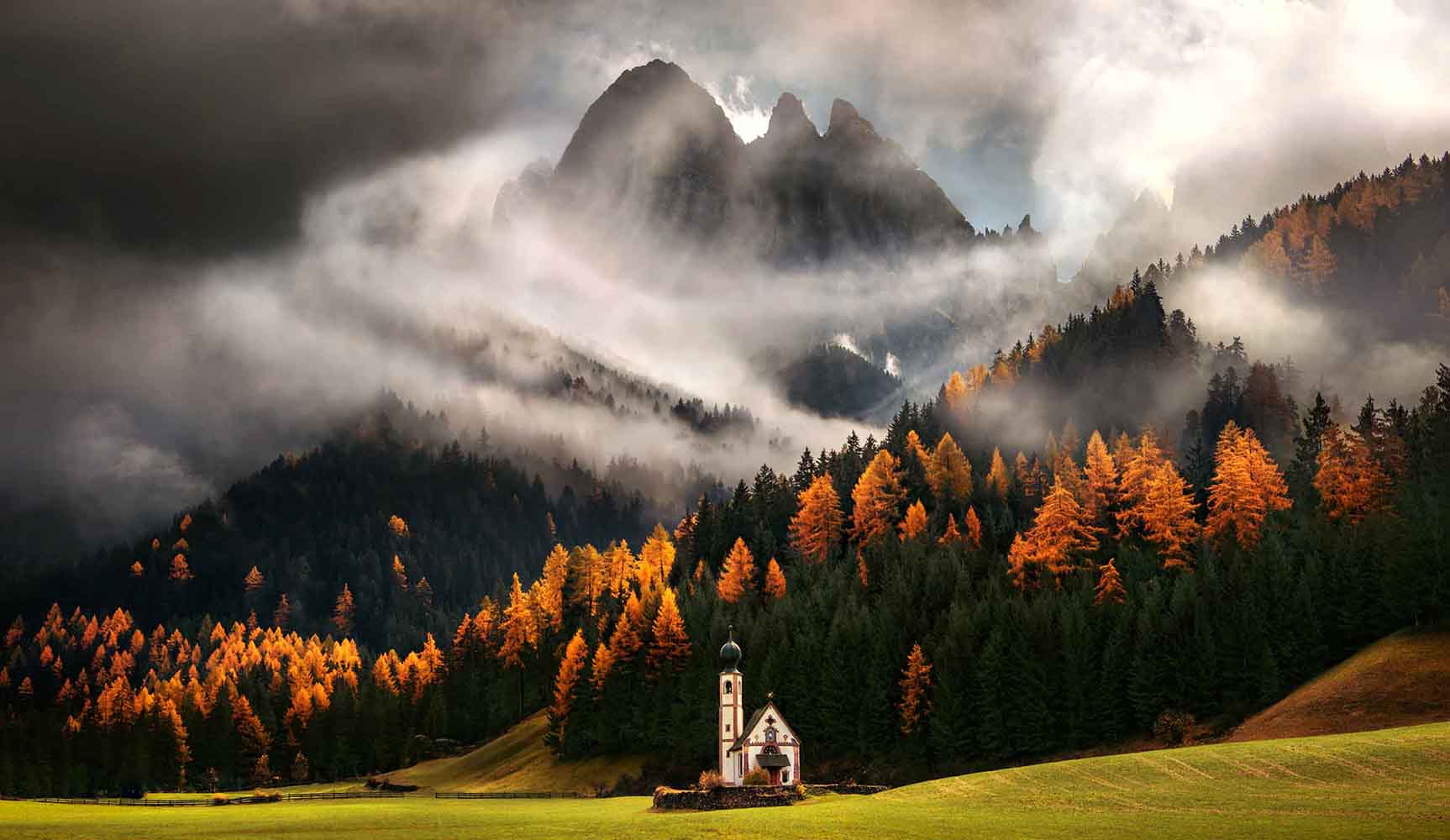 The St. Johann Church
The St. Johann Church
The St. Johann Church is a well known attraction in the Dolomites and we know some incredible spots to shoot it from!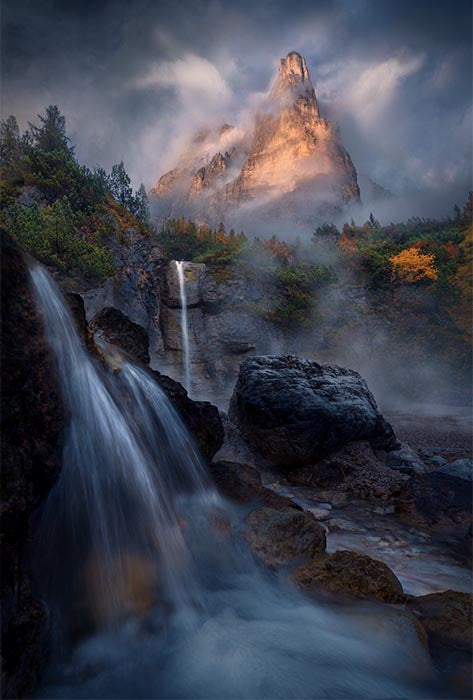 Peaks
Peaks
and they are epic..
Day 1
---
We will pick you up at the airport no later than 11 am. After a 3 hour drive with breathtaking views around us, we will arrive at our first apartment. After checkin it is time to make ourselves ready to shoot the incredible st johann church during the afternoon - which is also by far the best light on this location.  We will shoot this church from 3 different incredible viewpoints - all accessible in minutes from the parking. After our incredibly productive first shooting, it is time to charge our energy batteries in the nearby Italian restaurant. We will continue our adventure directly to the high mountain plateau of Alpe di Siusi which we will shoot for sunset. Although the time to explore this particular sunset is limited, we will return to this area more times during the tour  - depending on weather conditions. On the end of the day we will enjoy our dinner at the restaurant.
Images Day 1
Day 2
---
We will start our second day with an early morning drive to the Alpe di Siusi area.
This time we will shoot it from a different viewpoint. Everyone has the freedom to follow
Max Rive and use his tips, advice, photo locations and compositions or scout on their own.

Images Day 2
Day 3
---
In the morning we will return to either Alpe Di Siusi or the ST Johann
church - depending on both weather conditions and the results on each
location the previous days. After our shooting we will return to the
hotel for our breakfast.
It is time to drive to our next apartment
located near the beautiful village of Cortina d'Ampezzo. This location
will give us access to some incredible photo spots nearby. Our first
shooting will be the spectacular Tre Cime di Lavaredo.
After lunch
and check-in, we will park our vans high up the mountain which allows us
to hike on an easy hiking trail towards our spot. The hike will last
around 35 minutes each way.
Images Day 3
Day 4
---
The most beautiful lake in the Dolomites will be shot at sunrise.
In order to be here in time, an early morning drive and 20 min hike is
required to reach this beauty. Disclaimer - the amount of water in this lake can greatly vary with each season. After our sunrise shoot we will make our way back to the apartment. On the way we will stop at different spots . After lunch we will make ourway back to Lago di Imides. to shoot this for sunset.
Images Day 4
Day 5
---
After having enjoyed 2 nights at our apartment it is time to move on to
our third and final accommodation. First, it is time to shoot the
sunrise. And this will be done from a new area that hasn't been shot
before.
In order to get here we drive to a secret mountain road.
From here we will hike in about 20 to 30 minutes to the shooting area. 
After our lunch in town and relaxing time in the apartment, we will drive to our
sunset shoot.  There are 2 main shooting areas, one below a waterfall and one
further down the river. It is necessary to use our wide angle lenses, and even
then it might be required to do a panorama.  
Images Day 5
Day 6 + 7
---
It is time for our last but not least sunset shoot. The group will be
split because you can choose to go to a new location or to shoot sunset
at the waterfall again. Because both the waterfall location and the new
location are of such high quality you can't go wrong with either
decision. The new location offers an incredible view towards the same
mountain but from the other direction. This location does require a 40
min hike in each direction.
The new location will be led by Max Rive and the old waterfall location will be led by the assistant guide.
On the last day we will drive back to the airport to ensure everyone will
make their flight well in time. Depending on everyone's flight schedule
and weather conditions there is a chance we will do a quick stop to
shoot the sunrise along the way.
Images Day 6 + 7
Professional photo Guides
Marco Grassi and Jessica Lancia. Our guides know the area better than anyone and have a big drive to teach the group in a fun yet ambitious way. Your success and satisfaction is their success and satisfaction. The more you are willing to learn, the more we encourage you to ask questions at all times.
Depending on the group size, we will use one or two, 9-seater vans to ensure plenty of space for everyone.
All processing videos and presets from Max Rive.
All of Max Rive's highly esteemed processing videos and presets will be shared before/after the tour. In these videos he will demonstrate his unique and award-winning style of processing in depth. Total value is around 550 USD.
Personal Processing Sessions
The guides will demonstrate the latest processing techniques on a laptop connected to the available tv or monitor in the hotel. A photo from one of the participants or from the guide himself will be used. All sessions will be recorded and shared among the group so everyone can watch the classes back once at home.
Travel insurance and flights
Travel Insurance is required and has to be arranged at some point before the tour start. You will have to arrange your flights to and from Venice Marco Polo airport.
Food: Lunch, dinner, snacks, alcoholic drinks
We will visit the best local restaurants for lunch and dinner. In between we will stop at supermarkets and small grocery stores to allow everyone to get some snacks and drinks if desired.
Max Rive's in the field Tutorials
These videos are not included because these videos can be considered as a workshop on its own.
Enjoy delicious Italian breakfasts
Where can I get the tour information brochures (PDF)?
You will get all tour PDF's by email when joining our exclusive tour list (CLICK HERE)
Which tour is expected to have the best colors?
Both tours take place during the peak of fall/autumn in the Dolomites which means both tours can expect to have the best fall colors.
What lenses shall I bring to the Dolomites ?
We recommend bringing a wide angle (zoom) and a tele-zoom lens. The 20 to 200mm range is essential – while 15 – 20mm and 200 – 300mm is recommended.

During the hiking part we recommend to bring only 2 lenses in order to keep the weight down to a minimum.
Yes, but only outside the National Parks. There are some drone spots, but the Dolomites are still best captured with a normal camera.
The Dolomites Autumn Tour is easy, with the longest hike being a 40-minute trek to Drei Zinnen. Along this hike, people will be able to stop to shoot the views around them. Depending on the total fitness level of the group, some smaller hikes from the departure point of each morning/evening are optional.
Do I need to bring a laptop for the classes?
No, the guides will connect their own laptop to the projector in the hotel.
What will the weather be like?
The weather in the Dolomites varies each year. Temps can be mild with 10+ degrees Celsius during the day but it is also possible that the temperatures will just reach above freezing. At the beginning of the tour, we'll inform you about the expected weather so that you can be prepared with the best gear for the trip.
Is there a required experience level?
No, we have photographers from all experience levels participating. Whether you ask how to shoot in manual mode, how to take a panorama or how to master the handheld focus stack technique – the guide will always be happy to help and adopt his teaching to each skill level.
REFUND AND CANCELATION
The deposit of 1500, - euro can be transferred to a different tour. A refund will be given if 1. A replacement has been found and 2. If the tour is fully booked.

Refund Policy regarding the full payment
(which is required 90 days before the tour start):
 • More than 60 days prior to the start date: 70%refund
• 45 days prior to the start date: 35% refund
• 30 days prior to the start date: 15% refund
• Less than 30 days: no refund.

When a replacement has been found a refund will be given. Any discount offered to that replacement will be deducted from the refund amount. The received amount will be refunded - transaction costs and currency differences might lower this amount.
Refunds will be paid by the same method as the original payment was made. Refunds will be initiated within 72 hours after the approved request. Please find our full refund and cancellation policy in our Terms and Conditions
here
.